*******ATTENTION MWTS racers!!! A notification group is being set up to send out 2017 race updates via email and text since not everyone is on facebook. Please email alex@atrendz.com and give him your email and phone number if you would like to be added to this group. *******
---
MWTS Schedule Change
Due to a conflict with the dirt track at Rt 66 Raceway MWTS 1st race previously scheduled May 13th is being move to May 6th. Please spread the word and note the updated schedule posted.
---
---
2017 MWTS Race Schedule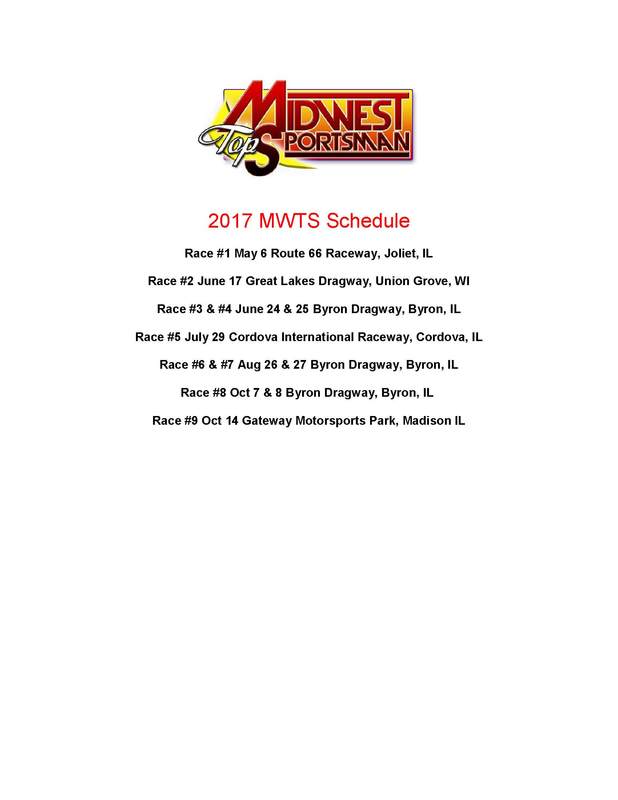 ---
---
---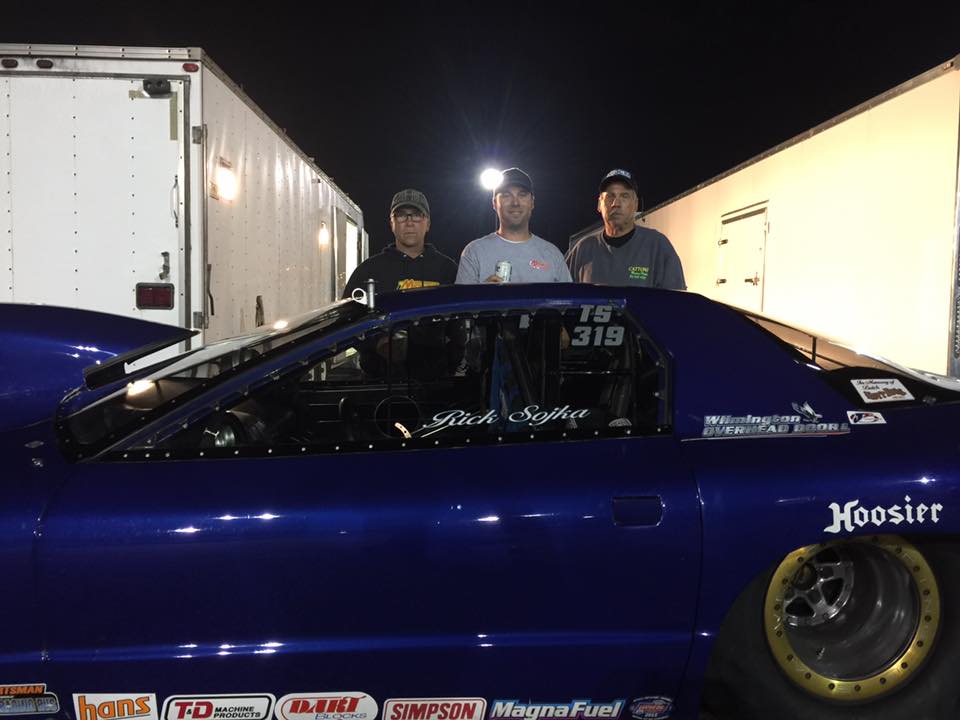 Race 9 St. Louis Winner - Rick Sojka
The final MWTS race of 2016 was contested at Gateway Motorsports Park in St. Louis. It was a fantastic warm day out considering it was the middle of October. 15 cars made the trip out for the guaranteed $1,500 purse. There was a lot riding on this race as many of the top 5 positions in the Purse Snatchers was still up for grabs. Number one qualifier was Rick Sojka Jr with a 6.64 @ 207. It was a long day of racing with first qualifier starting at 11AM and the final round was ran just before midnight. In the semifinals, it was Rick Sojka Jr over Rich Smith and Jon Steldt over Troy Finner. The final round was decided at the finish line with Rick Sojka Jr over Jon Steldt to win the money and the final race of the year.
​
---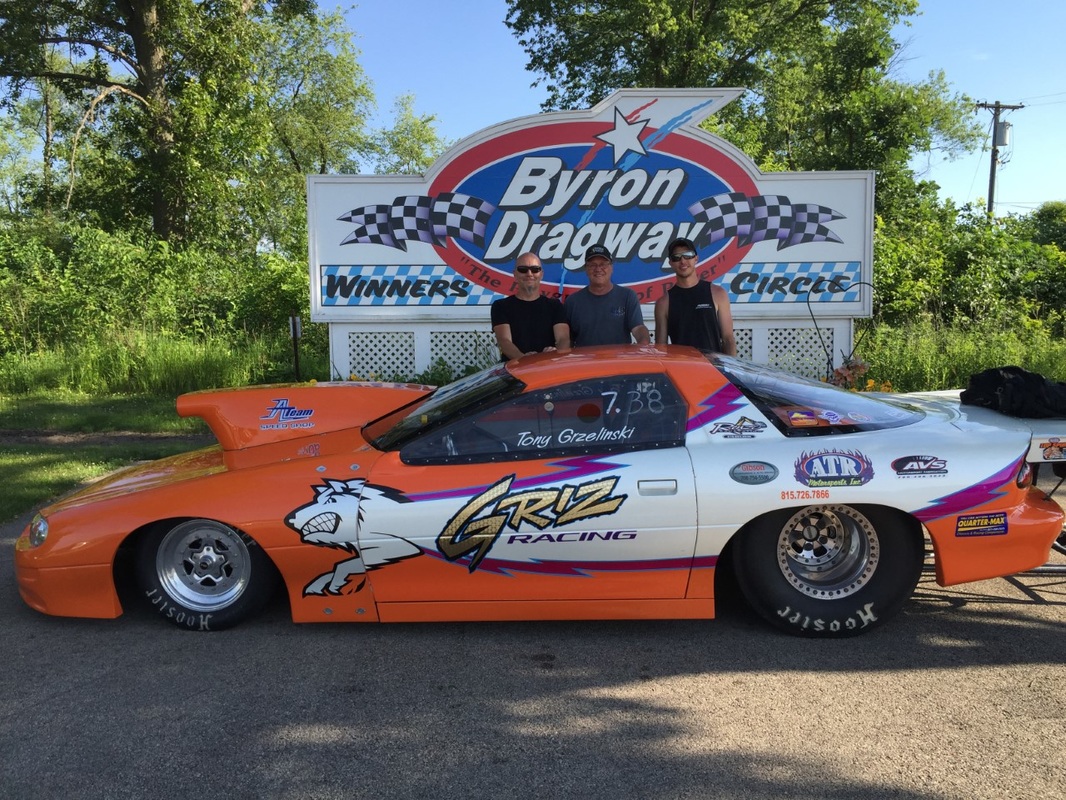 Top Gun Shootout 2016
We also had the Top Gun Shoot out on Sunday, Rick Sojka against Chris Redden and Tony Griz against Andre Harris. Rick Sojka Beat Chris Redden and Tony Griz beat Andre Harris. It was between Rick Sojka and Tony Griz unfortunately Rick was unable to make the call. Tony Griz won the Top Gun Shootout. Congratulations to Tony and his Crew!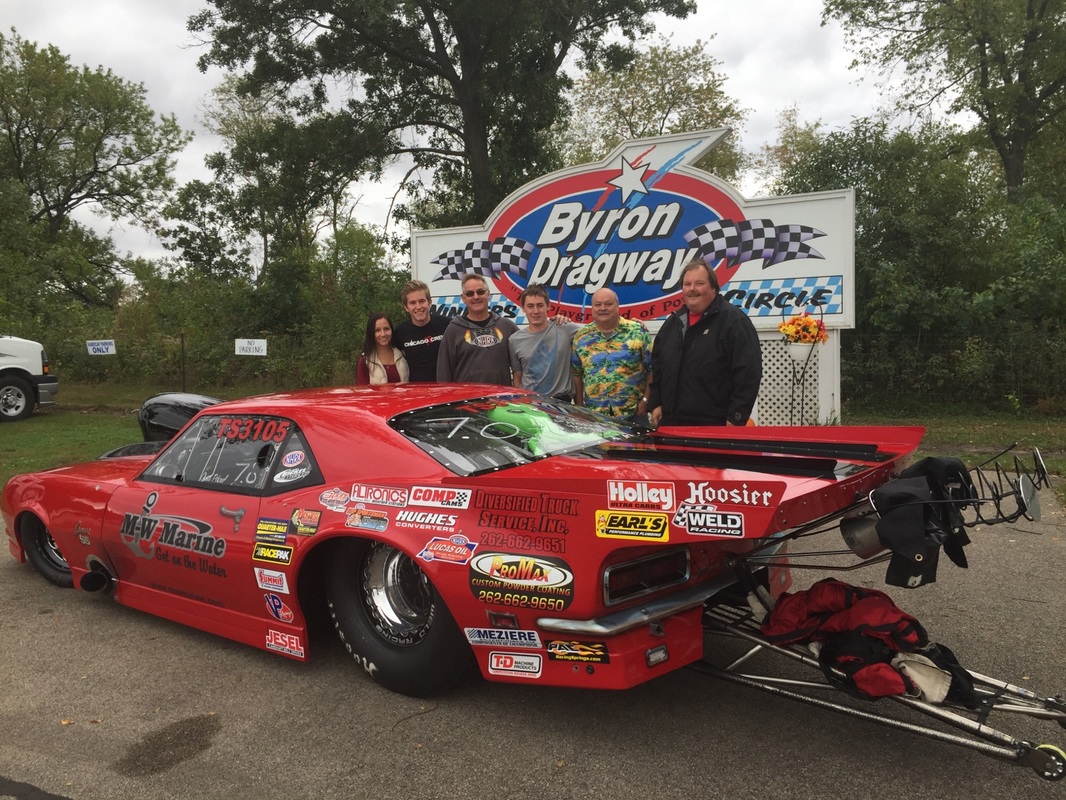 Race 8 Byron Winner - Chad Pekrul
We had a trying week end with off and on rain. Saturday some guys got in two qualifying runs and the other guys got in only one before the rain came in and they called it. On Sunday went right into eliminations early morning, Low ET was Rick Sojka Jr with 6.63 at 208 MPH. Chris Redden was next with 6.71 with a MPH of 208.75.
We had a 30 car field. It was Steve Maas and Chad Pekrul and Ed Kurth and Steve Jaeger in the Semi's. Chad Pekrul beat Steve Maas and moved onto finals Steve Jaeger beat Ed Kurth and he moved on into the finals. Chad Pekrul won over Steve Jaeger in the finals, wow what a win payout was $5000 and runner up $1500. Great job to both driver and crew members. Congratulations to them and also to everyone who showed up they all were great. Last race will be in St. Louis October 15th. Hope to see a good car count there.

---
Race 7 Byron Winner - Chad Pekrul
Race 7 September 18th, Another great day of racing we had 24 cars race on Sunday. We got one qualifier in the morning and went into eliminations. Jim Banke and Chris Wilkins raced with us also. Low ET was Chris Redden at 6.809 followed by Sean Brady at 6.839
Semi finals were Chad Pekrul and Nick Joszwiak. Chad Pekrul won that race moving on to the finals. Rich Engelbert got a bye run into the Finals. Finals were Chad Pekrul and Rich Engelbert. Chad Pekrul won the Finals. Great job to both drives and crew members. A big thanks to everyone great job to all the drivers and crew members.

Hope to see everyone out at Byron Dragway for race 8 October 1st and 2nd.

---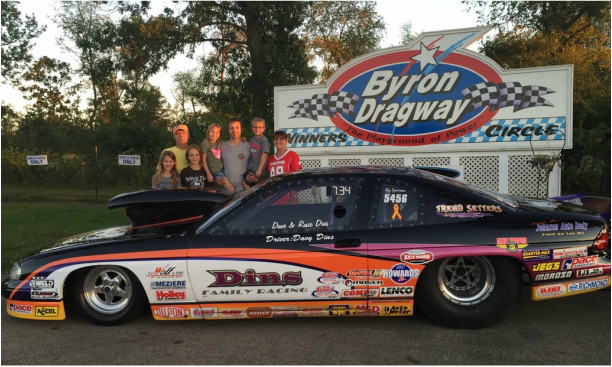 Race 6 Byron Winner - Davy Dins
Race #6 September 17th we had a great showing 22 cars showed up to race. We had three past members join again and race with us: Dave Dins, Steve Maas, and Tom Harger......welcome back guys! We also had a few other cars that raced with us Vince Nannini, Mike Murray, Myron Mertens, John Stelot,and Anthony Plude.
Low ET was Chris Redden at 6.825 followed by Rick Sojka Jr. at 6.829 . Tony Griz and Vince Nannini ran each other in the Semi's and Vince Nannini won. Dave Dins had a bye run into the final. Dave Dins and Vince Nannini went to the finals and Dave Dins won the race. Great job to both drivers and crew members. Also great job to all who showed up it was a great turnout!

---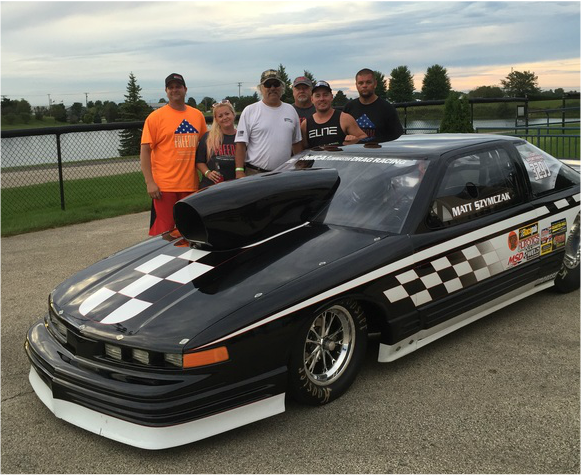 Race 5 - Joliet
We had our 5th race at route 66 Joliet August 7th. There was a field of 12 cars. The low Et was Chris Redden, 6.822 at 202.06 MPH followed by Rick Sojka 6.864 at 201.58 MPH. Rick Sojka and Matt Szymczak were in the Semi Finals and Andre Harris got a buy run into the finals. Matt Szymczak won and went on to beat Andre Harris in the finals. Congratulations to Matt and his crew and to Andre and his crew. Great job by everyone. Hope to see everyone at our next race at Byron Sept 17th and 18th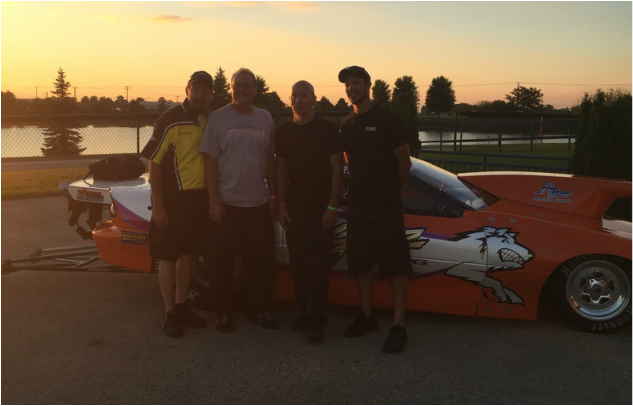 Race 4 - Joliet
We had our 4th race at Joliet on July 16th. It was a hot but very calm day there, we had 17 cars show up but unfortunately one broke so 16 ran the program. Tim Kirman had best ET at 6.63 followed by Chris Redden at a 6.75. Tony Grzelinski and Bobby Romano were in the finals. Tony Grzelinski won at his dial in of 6.95 on a 6.950 with a .005 light. Great job and Congratulations to Tony and his team and to Bobby Romano and his team. Hope to see everyone at our next race August 7th at Joliet.
---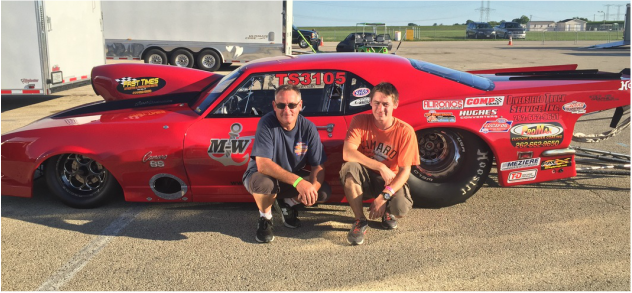 NHRA Route 66 Nationals
Congrats to Chad Pekrul and his dad! They took home the win for Top Sportsman at the Joliet nationals on July 10th 2016!!!
---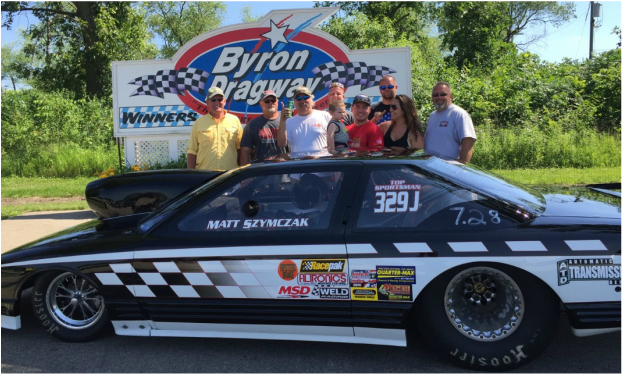 Race #3 - Byron
In a back to back weekend, Race #3 was held June 19th at Byron Dragway. It was another extremely hot race day at Byron, we only had 10 cars for the field Sunday. Low ET of the day was Chris Redden with a 6.837 Sec. also top speed was Chris Redden at 203.89 MPH. Congratulations to Chris and Amy. Rick Sojka made the next fastest pass with a 6.927 at 198.35 MPH.
Sunday's winner was Matt Szymczak, congratulations to Matt and his crew! Runner up was Eddie Banderowicz and congratulations to him and his crew also for a great job. Again, congratulations and thank you to all the racers who came out and bared the hot weather for the weekend, and for supporting MWTS.

Don't forget our next race will be July 16th at Route 66 Raceway in Joliet. Hope to see everyone there. Have a Safe and Happy 4th of July.
---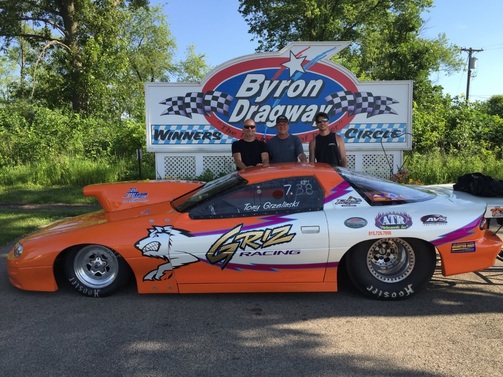 Race #2 - Byron
Race #2 was June 18 at Byron Dragway. We had 13 cars on Saturday and low ET was Chris Redden with a 6.839 and top speed of 205.04 MPH congratulations to Chris and Amy. Tim Kirman had the next fastest pass with 6.868 ET at 201.10 MPH. It was VERY hot but all you guys and gals managed to brave the heat for todays race. Congratulations to Tony Grzelinski on the win, you and your crew did great job. Runner up was Bob Romano who was piloting Rick Zirk's car, congratulations to their crew also on a great job.
---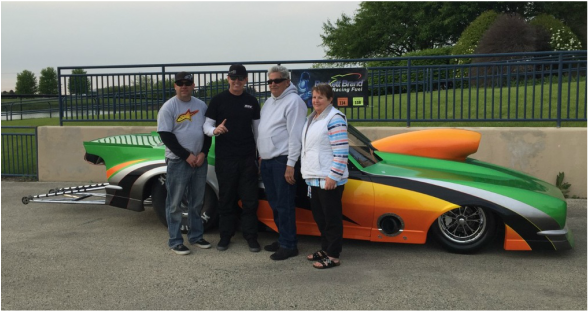 Race #1 - Joliet

Troy Finner won the first race at Route 66 in Joliet, IL for Midwest Top Sportsman on May 7th. Great job to Troy and crew! Runner up was Matt Szymczak, congratulations to your crew also! We had 14 cars for our 1st race of the year. Low ET was Andre Harris at 4.422 in the 8th mile due to strong winds. Top speed was Andre Harris at 158.50 MPH. Congratulations to all the racers who showed up, and thank you for supporting MWTS!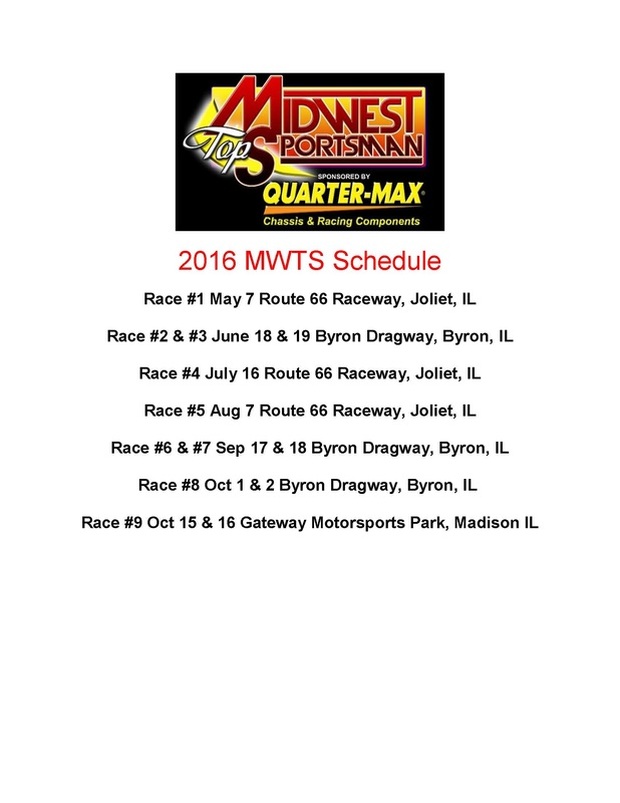 ---
Welcome To The New MWTS Website!
Welcome to the new MWTS website!!! In an effort to help keep the site updated frequently and stay user friendly, we have rebuilt everything from scratch. If you would like any announcements to be posted on the website please email me (
Kristi.Vicary@midwesttopsportsman.com
) and I can get them up right away.